Novice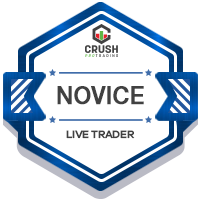 Points: 1,000
The Novice Badge
is our 3rd level of Achievement and is awarded to the Crush Pro Trader who has worked diligently to complete their training and has been an all-round active participant in Crush Pro Trading. After joining a team, the trader has developed a solid understanding of the strategy being traded and has demonstrated the disciplines required to successfully demo trade, achieving the skills and confidence required to 'GO LIVE' and begin trading real money.
How to Achieve this Badge
Complete your training
Go live trading on a Crush Pro Team
Achieve the Participator and Trader Community Badges
Once you have completed the requirements, let us know and we'll arrange a review with you to issue your badge.