Master Trader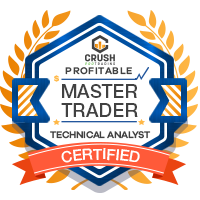 Points: 1,000
The Master Trader Badge
is our top achievement and is awarded to the Crush Pro Trader for having successfully completed the training, and put in countless hours of backtesting, practice and real trading to ultimately become a profitable independent trader for at least 1 year.
The trader is a certified technical analyst by completing the course "Trading through Technical Analysis".
Having gone well beyond the minimum requirements to represent Crush Pro Trading both inside and outside the community, demonstrating leadership in working with not only their teammates, but also helping all Crush Members going through the learning curve. Above all the trader is someone we are proud of and will gladly give our support to always.
Open Badge
An Open Badge contains metadata and can be shared outside of Crush Pro Trading. Included in the metadata is the following:
Badge name, badge URL (description), badge criteria, badge image, issuer, issue date, recipient, tags, alignment (standards) and evidence URL
How to Share this Badge
The Master Trader Badge can be shared through social media or kept in a backpack and the link shared wherever is needed.
To share your badge on Linked In or through social media simply click the share button above and paste it anywhere.
You can also store your Master Trader Badge along with all of your other badges in any number of backpacks such as Badgr, Credly etc.
How to Achieve this Badge
Achieve profitability for at least 1 year
Become a certified technical analyst by completing the "Trading Through Technical Analysis" Course
Achieve all 5 Community Badges (Participator, Supporter, Communicator, Trader, Mentor)
Go beyond the minimum requirements to receive the community badges
Receive the approval of all Crush Pro Team Leaders
Once you have completed the requirements, let us know and we'll arrange a review with you to issue your badge.